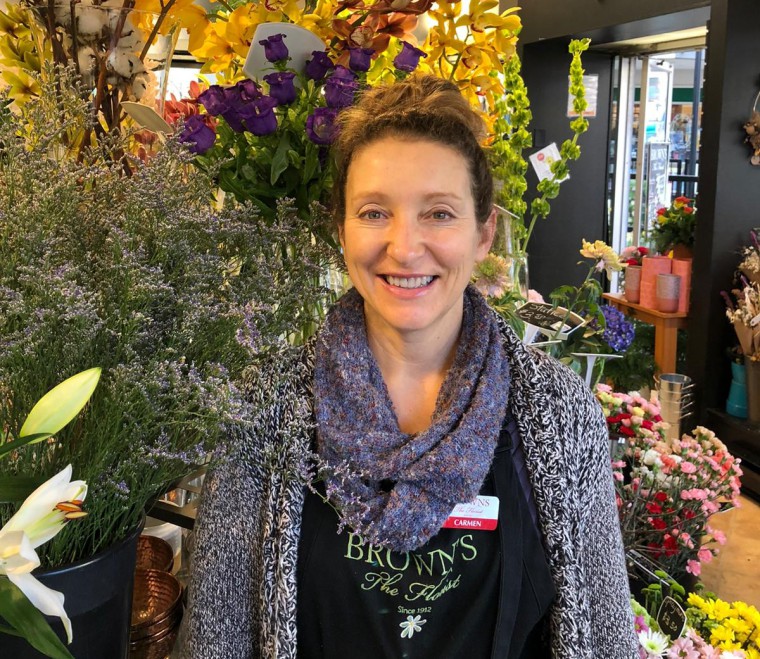 Brief info
Carmen came to us after doing a Horticulture program at The Gardens at HCP. She became curious about cut flowers and for the first time in her life was interested in beauty with a purpose. We are so glad she came to us to explore her new interests. She has blossomed right in front of us!
Carmen had no flower shop experience when she started with us but has a love of learning and a strong worth ethic. What a first year she's had with us, not only has she worked through a global pandemic, she's also learned everything from the ground up from bucket washing and flower cleaning to bouquet making and floral design. She meets every challenge head-on and isn't afraid to ask for help when she needs it. Carmen's personality makes her easy to work with. She's a real team player and has a great sense of humour.
She loves how it is never boring in the flower shop and loves the way our team works together. She compares it to working in a one big kitchen full of creating, cooking up beauty! Carmen loves to create and enjoys seeing customers leaving happy because of the care and consideration our team put into their purchase.
While some of her hobbies have been put on hold during the pandemic, generally speaking in her spare time you can find Carmen hiking, reading, cooking, and enjoying live music. Her advice to aspiring florists is to be flexible, adaptive, and creative. The flower shop is fast-paced and there is more to it than just flowers.