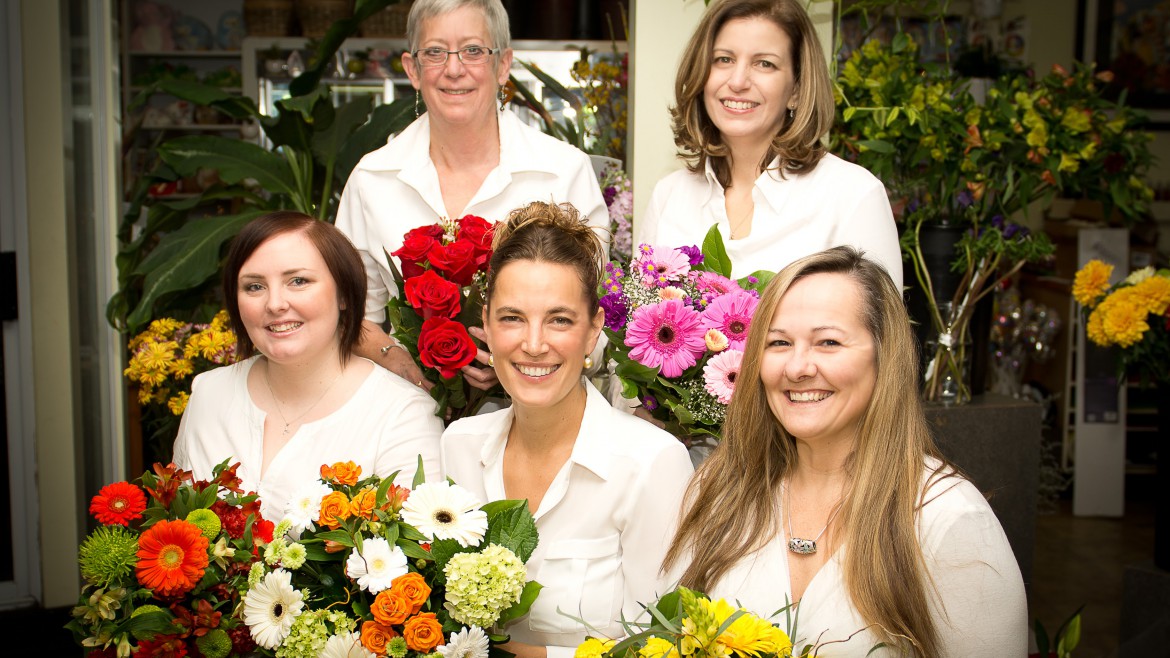 Our Management Team – Kathy, Annette, Amanda, Natasha and Tammy
During the past week at Brown's The Florist our customers have told us heart-wrenching stories of families separated, people stranded, seniors shut in, weddings cancelled, people dying and funerals being postponed. They have been singularly grateful that we are open, and able to help them convey their love, sympathy and support to those they care about. That's what we do, and it is our commitment to you to remain open safely in whatever way our Government allows.
Brown's The Florist has over well over 100 years' worth of stories.
We have weathered WWI, the Spanish Flu, WWII, the Stock Market Crash of 1929 and the Great Depression.  More recently we have been here for 9/11, the 2008 financial crises, H1N1 and SARS.  Through all those life-changing events, we have been open for our customers, listening to their stories, and helping them send messages of love and support.
Natasha Crawford, owner of Brown's The Florist, has been with the company for 16 years.  Collectively, her team of 25 members have 365 years of floral experience.  Like most of you, none of them have experienced a global crisis like this.
As an independent company, we acknowledge that each business should assess the situation thoughtfully and with consideration of the well-being of the entire community. We also acknowledge that we are the face of our growers and responsible for their beautiful flowers having a good home. We must quickly change and be leaders in adaptation for how we can coexist in this new reality. COVID-19 (Coronavirus) isn't going anywhere soon and physical-distancing is going to be the new normal for months, not weeks. Babies are still going to be born, milestones celebrated and life will continue.
We are dedicated to helping you in whatever way we can.  Our mission is to spread light, joy, and positivity, and ultimately to help each other stay connected from a distance.