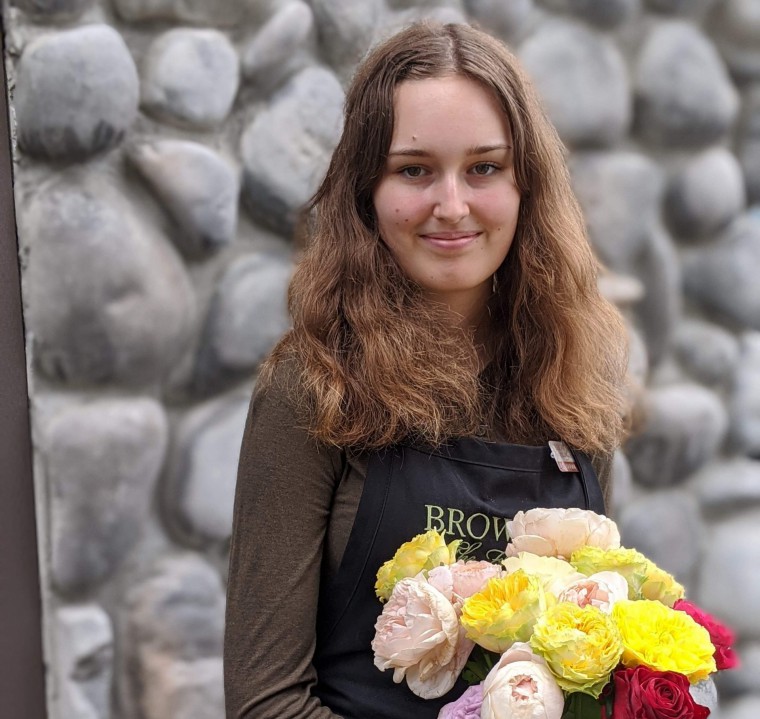 Brief info
Hannah started with us in 2019. In grade 11, Hannah works with us just a couple of days a week while she focuses on school. In her first year with us, she has learned a whole heck of a lot and we have loved watching her grow in confidence and in her knowledge of both flowers and plants. We are all working hard to train her into a plant-a-holic like the rest of us!
Even at a young age, Hannah is a customer service superstar. If you've ever dealt with her either in person in our shops or over the phone, you know that she is professional, sweet and very easy to talk to. She always comes to work with a stellar attitude and she contributes to our team with her cheerfulness, willingness and humour. While she's not a part of one of our mother-daughter duos at the shop, she's not far off. Her Aunt and Cousin both work with us and it's easy to see that a great work ethic runs in the family!
Hannah came to us looking for a workplace that had a sense of community and a place that would feed her soul a little bit. She had work experience with us when she was in grade 8 and thought that working with us would fit the bill! Hannah's favourite thing about working at the flower shop is seeing the change in seasons, seeing new flowers all the time and of course, the team that she so enjoys working with. Hannah is looking forward to learning more in the shop and is excited to start working on floral design. She is a perfectionist and is hoping to perfect her skills eventually.
When she's not at school or work Hannah can be found writing, playing music, and learning to drive...watch out Westshore, Hannah is on the move!
To those thinking of working in a flower shop, Hannah's words of wisdom are that if you have a creative spirit and a love of nature this job is for you. It can be hard so don't give up, keep practicing!