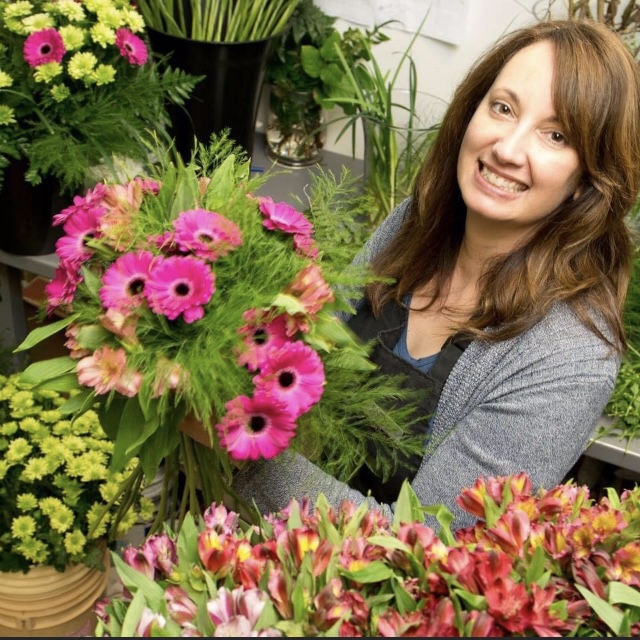 Brief info
Andrea began working at a flower shop in Duncan in 2009 before studying floristry in 2010. Looking to expand her horizons and came to work with us in 2015.
Andrea has experience working both locally and overseas. She has her European Masters Certification and was inducted into AIFD- the American Institute of Floral Design in 2019. For those of you who don't know, AIFD is an organization dedicated to establishing, maintaining and recognizing the highest standards of professional floral design. Becoming a member takes a lot of time, dedication and hard work, including rigorous testing and participating in a competition. In her time with AIFD, Andrea has worked with many world renowned florists and on some pretty impressive projects, including designing all the bouquets for the new AIFD inductees at their annual Symposium.
Andrea's designs are always unique and beautiful. She enjoys teaching all of us the things she's learned along the way and does it with patience and kindness.
She has a few favourite things about Brown's. One is the way it is like a family where everyone is welcome and accepted. Another is how at Brown's we are always striving to improve our skills and our business instead of just doing things the way they have always been done. Most importantly Andrea's most favourite thing about Brown's is our owner, Natasha. Andrea feels that Natasha is the most amazing boss and person that she has ever encountered and we couldn't agree more!
If she could have any superpower Andrea would choose the ability to fly so that she would never need to be stuck in traffic again. She was unable to choose a favourite flower, she feels it's like choosing a favourite child!
In her spare time, Andrea loves to be with family including her two sons and her mom. You can often find her foraging for beautiful things in the forest, or freelancing for some of the other florists in town.
Her advice for aspiring florists is to study with as many different designers as you can- there is something to learn from everybody!