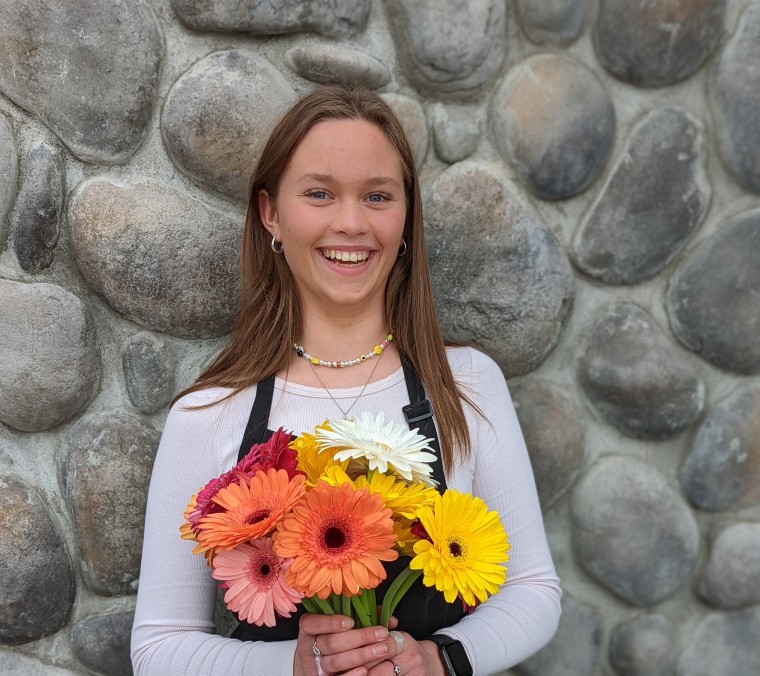 Brief info
Anna came to us looking for a part-time job while she is in high school. She thought Brown's seemed like an exciting environment where she could learn lots. She had no flower shop experience when she started with us. Anna started out helping us with dishes, taking out the garbage, and processing flowers. Today she's a customer service pro and is well on her to mastering beautiful bouquets and arrangements.
Anna is great to work with and we are happy to have her on our team! She's super fast answering the phones, beating the rest of us to it most of the time. Anna is a hard worker with a great sense of humour, and she is willing to do whatever is asked of her. It's been a pleasure for us all to get to know her in her time here so far.
We asked her what her favourite jobs in the shop are. She said she loves working with customers and helping them create beautiful bouquets with them.
What Anna loves most about Brown's is the positive and happy environment here, she says she never thinks, "I don't want to go to work". What a relief for us! She looks forward to learning more about plants and further mastering her skills with bouquet making.
Anna keeps very busy between school and sports, but when she does have some free time she likes to spend it outside playing sports. While she has played dabbled with the trumpet, recorder, and ukelele, she's a serious piano player and is very good at it. In her classic over-achieving style, she also speaks 4 languages! Anna is smart and very ambitious.
Her advice for those considering a job at the flower shop is to be prepared for some "rough" jobs. She says it's not always pretty and to be prepared to get messy! She's definitely not wrong….