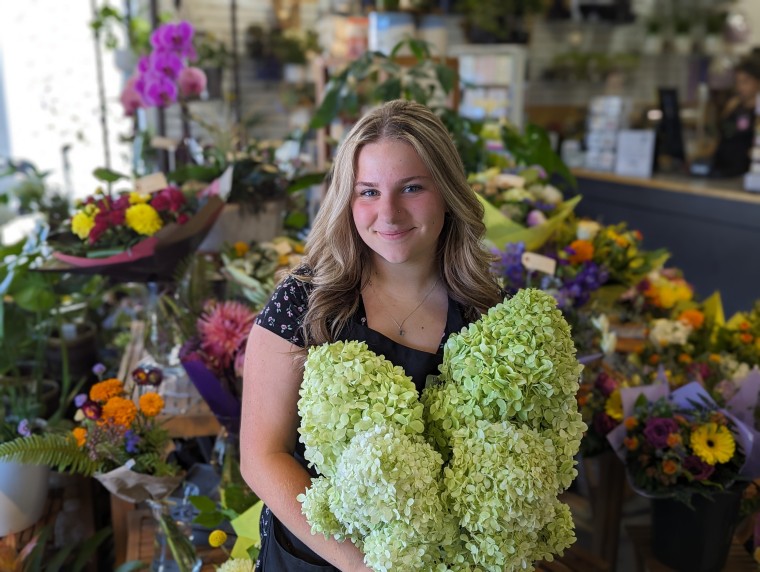 Brief info
Meet lovely Lauren. Lauren started with us in 2019. Her mom is our downtown manager, Tammy, so we've been a part of Lauren's life pretty much forever!
We love having Lauren working on our team with us. She is a hard worker and willing to learn anything! She's got a fun personality, a great sense of humour, is one tough cookie and is easy to work with. She's got a natural eye for design and is very coach-able.
Lauren came to work with us because she saw what her mom did for work and thought she'd like to do it too...kind of following in mom's footsteps! Her favourite things about working in the flower shop are taking care of plants and flowers, and setting up the shop in the mornings. She loves the satisfaction of making the shop look clean and pretty and is really happy with how much she's learned about taking care of plants in her time with us.
Her mom may be a floral veteran, but over the years Lauren has become quite the florist in her own right. She creates some stunning floral creations of her own. She's also truly up for anything. Sometimes you'll find her working in the shops on any number of different tasks, and sometimes she's behind the wheel helping with deliveries as well as getting fresh flowers to our shops for the team to work with.
In her spare time you can find Lauren hanging out with her family and friends, and getting lots of love from her cats, dogs and chickens.
Lauren's advice to those hoping to work in the flower shop is to have fun and to listen carefully because there's a whole lot to learn around here!