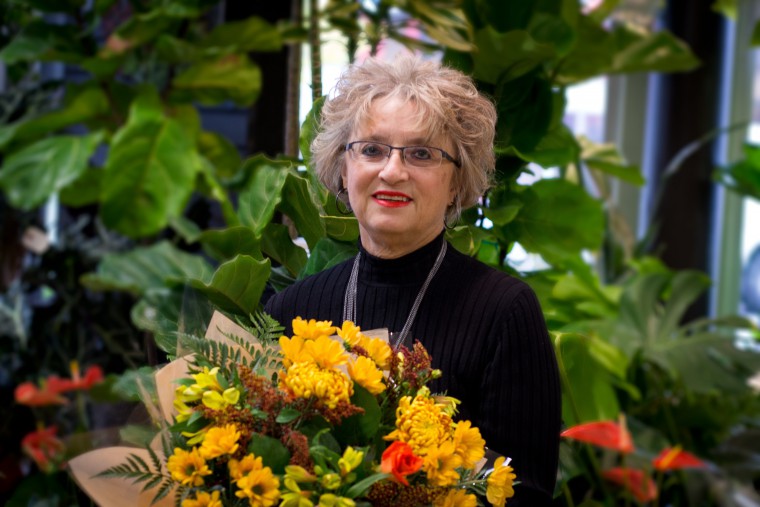 Brief info
Jacaline came to us looking for work that would keep her busy in 2017. She was walking down the street in Sidney one day and went into our shop to grab a business card for the owner. It didn't take long after that for her to start working with us.
Jacaline has previously owned two flower shops over about ten years in Vancouver, so she came to us already understanding the ins and outs of flower shop life. Over the years she has done all sorts of jobs from interior design, to running a bed and breakfast, to decorating lottery show homes...Jacaline has done it all, but no matter what she's been up to she's always had a floral gig!
Jacaline is an experienced designer who is quick and creative. She seems to have florist ESP often knowing what a customer wants before they ask for it. She is a heavy hitter for us at a busy holiday time working effortlessly to fill the shop with beautiful things with a smile on her face and a kind work for everyone. At those busy times her kindness and generosity she helps the team make it through an otherwise stressful time.
When we asked Jacaline what her favourite things are about working at Brown's she said she loves being busy, working with flowers, and most of all she loves the people she works with!
Outside of work, Jacaline is a very busy lady! She volunteers with Jazz Fest, The Victoria Conservatory of Music, the Victoria Symphony and Ballet Victoria. Her husband Lance is in a band so she's also his groupie! Jacaline and Lance recently bought half an acre of property on Mayne Island that they will be putting a trailer on for beautiful quiet getaways.