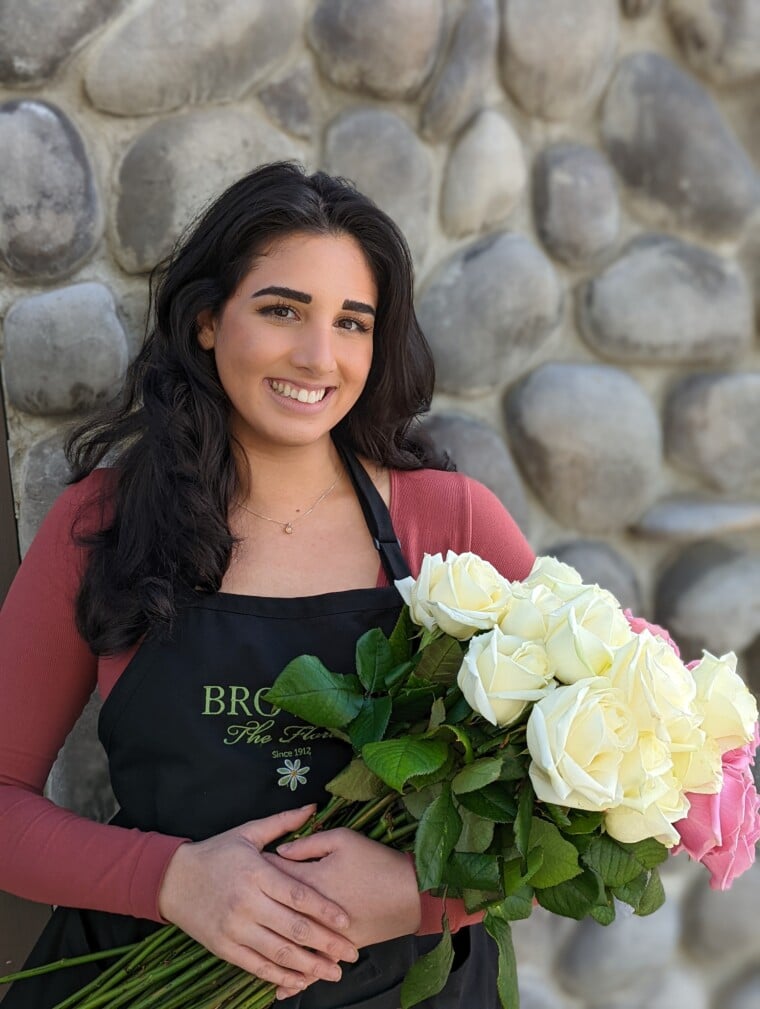 Brief info
Phaza is currently a student at Camosun working on her teaching degree. In her days before Brown's, she worked at the movie theatre. She was feeling the need for a bit of a change of scenery, then Covid shut things down over there. Lucky for us she found her way over to our little flower shop and has been a beautiful addition to our team.
Phaza has skills that not all florists (or artists in general) possess…she's a fantastic organizer and is a great help in our shop with paperwork and helping to keep us in order. She's wonderful to work with for more reasons than just her organization skills…Phaza is hard-working and fun to be around. She's a quick learner, honing her skills to create beautiful bouquets and arrangements for our customers, her attitude is always good and she's got an infectious laugh!
In her spare time, you can find her reading, going to the gym (she's got to stay in good shape so she can help us move all those heavy water-filled buckets!), and exploring the island. She enjoys finding fun new coffee shops and restaurants, loves a reason to celebrate, and never says no to a party.
We asked Phaza what her favourite things about her job at Brown's are. She said she truly does enjoy helping with office tasks and paperwork (thank you Phaza!!), taking orders, helping customers, and merchandising the front of the store to keep it tidy and clean. Her very favourite part of Brown's is the team and of course, the flowers are a bonus!
Phaza's favourite flowers are roses. Specifically, she loves Shimmer and Kahala Roses, but we've seen her gushing over all sorts of other roses and flowers when she thinks we're not looking.
Phaza's advice for aspiring florists is to learn your plants, expect the unexpected, and embrace the chaos. Such great advice!