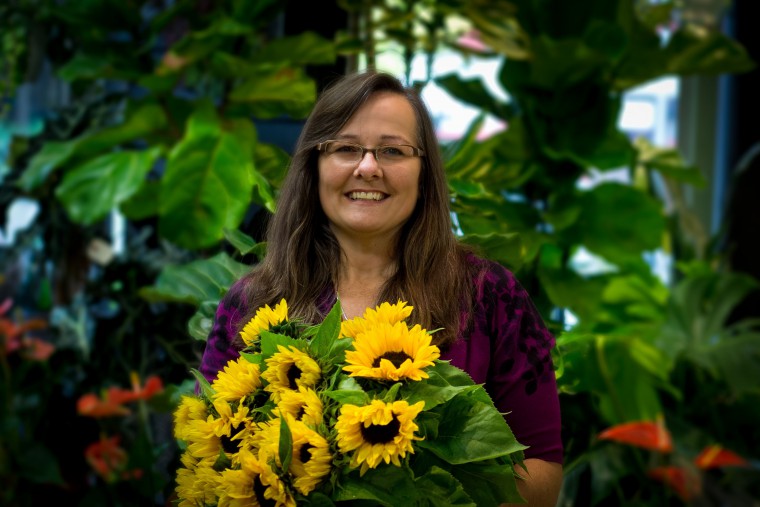 Downtown Store Manager
Brief info
Meet Tammy!
Tammy had a friend who worked at Brown's during college and told her that she thought it would be the perfect job for her. Tammy already did all sorts of crafty things in her spare time including arranging flowers at home and had already done flowers for a friend's wedding, so it seemed like a natural fit.
Here we are over 20 years later and Tammy runs our busiest and most chaotic shop all while making it look easy. She has learned so much over the years in the shop! She is a calm and kind manager, a patient teacher, and through all the craziness and chaos she keeps things light and fun with her easy-going nature and a great sense of humour. She is a generous team player and is always ready to help one of her flower sisters out, whether it's a quick conversation to help with decision making, or by sharing staff or flowers to help get a job done!
She is an energetic mother of 3 and all three of her kids have worked with us in some way or another. One of her kids is working part-time with us now! In her spare time when she is not driving kids around, she can be found caring for her 2 dogs, 3 cats, and 25 chickens, or tending to her beautiful garden. There's almost nothing she can't do!
While many of our staff are very knowledgeable and passionate about plants, Tammy is our resident expert and does the majority of plant buying for all three of our shops. She is on top of trends in both floral and plants and works hard to get in the best plants from the best sources.
Tammy's favourite thing about working in the flower shop is the team and how everybody pulls together to get the job done! She had a hard time choosing a favourite flower, so she's narrowed it down to purple mokara orchids, cymbidium orchids, leucadendron, and lilies!
We asked if she collects anything, she says that while her husband Felix would say that she collects animals, she disagrees...she says she has a lovely collection of Mediterranean pottery and yes, some of them have chickens on them.