What do you think of when we say "Valentine's Day?" We're willing to bet it's something to do with hearts, love, and romance. Valentine's Day is a day for people to celebrate those things usually by giving gifts like cards, chocolate, and flowers. While it's common for people of all ages and backgrounds to celebrate this holiday, there are some fun facts about this holiday that are a little rarer. With the big day just a few weeks away, we thought we'd share some of our favourite fun facts about Valentine's Day!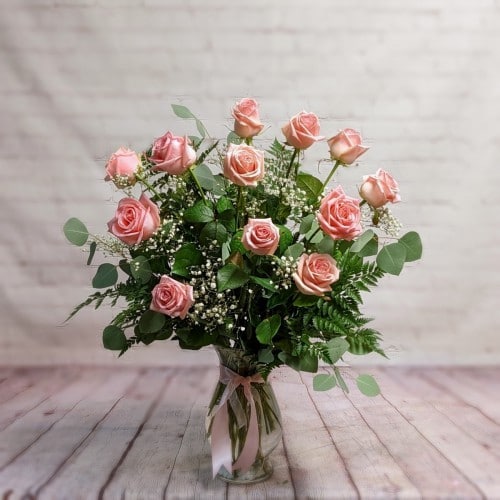 Valentine's Day History
Valentine's Day first became a holiday associated with love in the 1300s. Roman Pope Gelasius officially declared February 14th as St Valentine's Day at the end of the 5th century, but it wasn't until the Middle Ages that it became associated with love and romance. This is because of the common belief in France and England at the time that birds started their mating season on this date.
While Valentine's Day may have become known as a romantic holiday in the 1300's, it wasn't until the 1840's that we saw the first mass-produced Valentines. Esther A. Howard is known as the Mother of the American Valentine and is credited with commercializing Valentine's Day cards. She was well known and is remembered for her elaborate cards which she made with lace and ribbons. So next time you're out shopping for that perfect card for your special somebody, think of dear Esther and her boujee cards or channel your inner Esther A. Howard and craft your own card this year!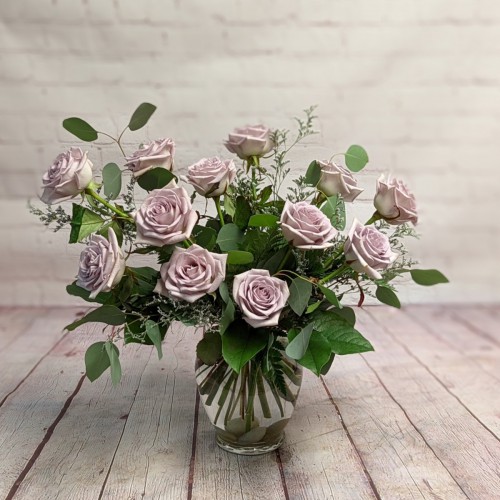 So what about red roses? How did they become synonymous with Valentine's Day? Lady Mary Wortley Montagu, wife of a British ambassador to Turkey during the 1700s, wrote letters home raving about the Turkish flower language. She was talking about the process of assigning symbolic meanings to different flowers. The concept of 'flower languages' caught on more so in 19th-century England, and over the course of that century, roses became even more connected with romance.
Did You Know?
Did you know that each Valentine's Day nearly 6 million couples get engaged in America? It's a staggering number for sure, but honestly…what better day to get engaged than a day that is dedicated to love and romance!
Ready for another staggering number? According to the Society of American Florists, approximately 250 million roses are grown for this holiday alone. Let's put that in perspective- that's roughly 6 times the population of Canada! Kudos to the flower farmers out there working their magic to make sure that all of their roses are producing at maximum capacity all for one day. You can imagine the challenge this must be to get the most out of their plants at a time of year that is cold and has short daylight hours.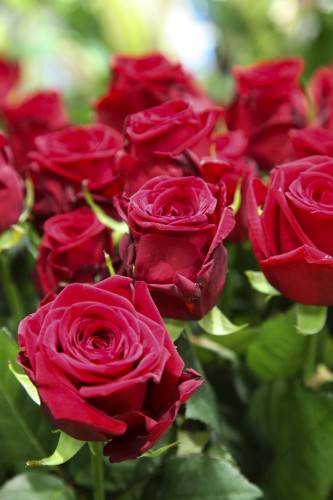 The Language of Roses
Let's dive a little deeper into the language of flowers and look specifically at the language of roses. It's common knowledge that different colours of roses have different meanings and our customers ask us about this quite often when they are picking out roses. So without further adieu here it is:
Rose –  Cherish a symbol of love and passion, the ancient Greeks and Romans associated roses with Aphrodite and Venus, goddesses of love. The Rose is also the June birth flower. Roses carry many meanings that vary depending on colour.
Red Rose- I love you, romantic love.
Orange Rose- Fascination, desire, enthusiasm.
Pale Pink Rose- Modesty, admiration.
Pink Rose- Thankfulness.
White Rose- Innocence and purity, secrecy and silence. I am worthy of you. You are heavenly.
Yellow Rose- Cheerful, friendship, or jealousy.
Blue Rose – Unattainable or the impossible.
Alternatives to roses
Roses are stunning, they are one of our most asked for flowers in the shop (along with tulips, lilies and gerbera daisies), but they are not everyone's favourite…and let's be honest, at Valentine's Day supply and demand means they are pricey! So you may be asking yourself what a good alternative to roses might be. We've got our top three favourite alternatives for you here:
Carnations. The ever-underestimated carnation is actually a pretty spectacular flower, and if you're looking for bang for your buck you've found it. Some of the most inexpensive flowers in the shop come in a vast array of colours, and will sometimes last a little longer than you might want them to. A dozen carnations can be just as pretty as a dozen roses and they too have meanings behind different colours:
Carnation – Thought to be one of the oldest cultivated flowers.  With the many varieties of colours available, this popular traditional flower has now come to be quite a trendy choice.  While all carnations symbolize love and affection, the colour of the flower also carries meaning when given.
Solid Color – Yes, fascination, womanly love, devoted love.
Pink – Gratitude, I'll never forget you.
Purple – Capriciousness.
Red – My heart aches for you, admiration, Flashy.
Striped – Sorry I can't be with you. Wish I could be with you. No, Refusal.
White – Remembrance, sweet and lovely, pure love, woman's good luck gift.
Yellow – Cheerful. You have disappointed me. Rejection.
2. Mixed flowers. Our designers love an order for a romantic mixed bouquet. This gives us the chance to create something one of a kind and use flowers that you may not have even thought of! When you order mixed flowers you can always let your florist know of any favourite colours or flowers, and they will be able to create something stunning just for you. Bonus: you'll get more for your money with a mixed bouquet than choosing only roses on Valentine's Day.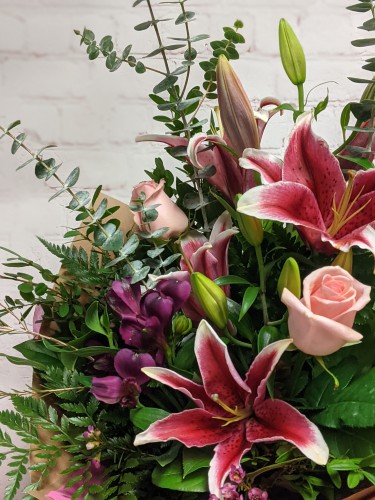 3. Cymbidium Orchids. Not only is this a great time of year for them, but they are also lasting and truly beautiful flowers. While these flowers are on the higher end of the pricing spectrum, they are very good value for your money. It's not unusual for cymbidiums to last for 2-3 weeks or more if they are cared for properly. These can be used as individual blooms in bouquets or arrangements, or they can be purchased as an entire stem. A stem of Cymbidiums will have several blooms on the stem and look beautiful on their own or paired with curly willow, some tropical foliage, and a little accent like a lovely waxflower.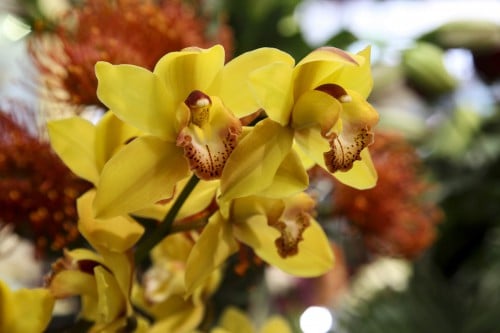 So there you have it, some fun Valentine's Day facts and a few pointers to top it off! We hope this Valentine's Day you are able to find a way to celebrate with somebody special.
Written by Amanda Vallis