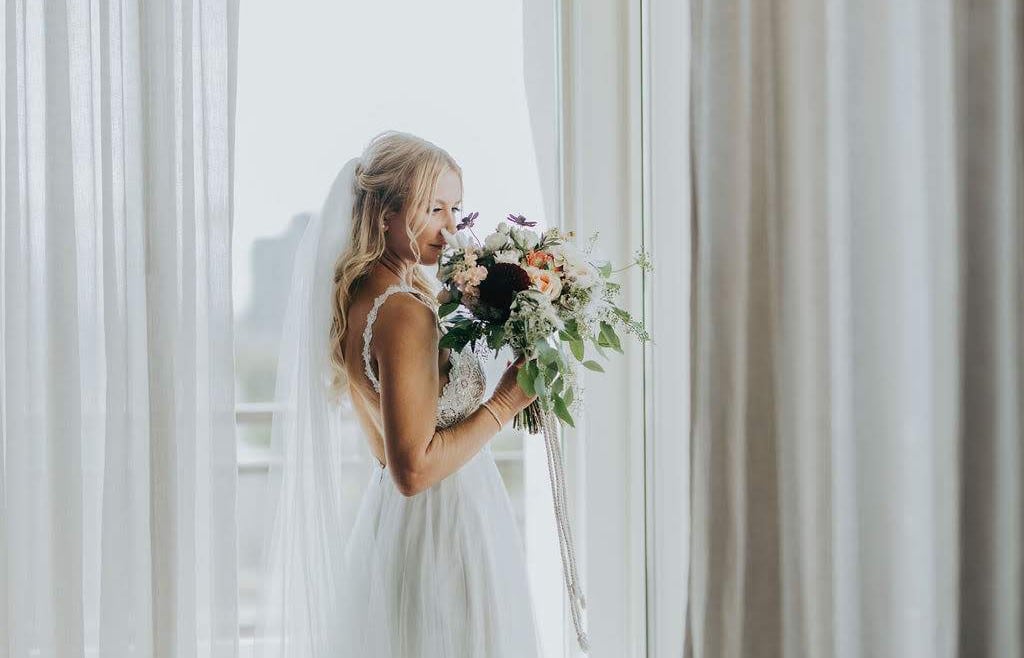 Are you engaged and currently planning a wedding? Congratulations! Engagement is a beautiful time in life full of excitement and anticipation. It's also a time full of ideas, opinions, and so much planning.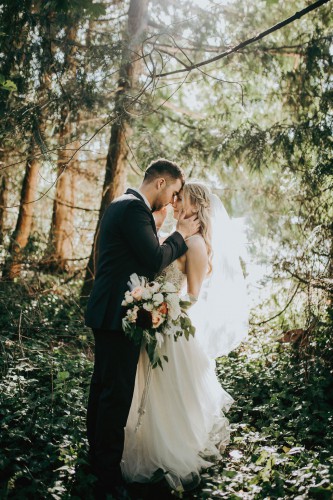 We love weddings. We love the way they bring people together to celebrate; the way weddings are such an expression of love… love between the couple committing to one another, but also the love between family and friends who are so eager to celebrate the happy couple!
We wanted to help tackle some of the many questions that come along with wedding planning, specifically planning your wedding flowers. You may have questions about what's available, trends, what's normal or typical for wedding flowers, when you should book your flowers, what to bring to your consultation, budget, and why you should hire a professional florist instead of doing it yourself. We want to tackle all of these topics, so grab a cup of tea and settle in….let's talk wedding flowers!
First, why hire a professional florist? 
You may be wondering why even bother hiring a professional florist in the first place? Maybe you have plans to DIY your wedding flowers, or maybe a friend has offered to do them for you, and the cost savings may sound attractive. For some, it sounds like a lot of fun, like a great activity for the bridal party to do together the day before the wedding! While DIYing your own wedding flowers may seem like a great idea we'd like to talk about why we feel hiring a professional florist is well worth it.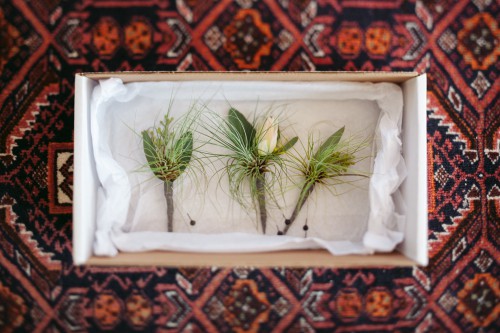 To start with, time. Flowers need to be made very close to the actual event and it can take a lot of time to get the job done. In those few days before the wedding, there can be a whole lot going on with all the last-minute details, family and friends arriving for the celebration, rehearsals, and rehearsal dinners…the list goes on. Add in doing your own flowers on top of all that you and could very well find yourself burning the candle at both ends. Wedding flowers take time to put together. For example, a bridal bouquet can take anywhere from 1-2 hours for one of our most seasoned designers to put together (the designer could have 10+ years of experience). A simple corsage can take an experienced florist 30 minutes or more to make, and trust us….we've tried to find faster ways to do it! If you decide to do your own wedding flowers, be sure to set aside more than just a couple of hours to get the job done, you're going to need ample time.
Skill is also a big factor. A professional florist will have the skill to take on whatever style of flowers you've asked for. Some styles of floral arrangements take years of cultivated knowledge and training to master. All of this knowledge and training equates to quality of work. 
Perhaps you feel that the quality of your floral arrangements at the wedding doesn't matter. You'll only need it for the day anyway, right? Remember that your flowers need to last the whole day and will be captured in photos that will be looked back on for many years. Bouquets and body flowers will be worn and torn all day, a professional florist will have the knowledge and expertise to help you choose blooms that will last well through the day.
Whether you think you'd like to hire a professional or DIY there are other factors to consider along the way…
Flower Availability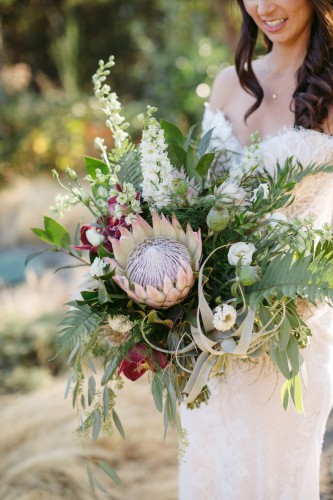 Flower availability varies quite a bit. It varies from season to season, and it can vary depending on world events. Global circumstances such as climate change (notably massive fires, droughts, floods, etc), shipping issues, COVID 19, and high demand for flowers are all factors in price and availability. Our best advice when it comes to availability is to be flexible! We are very lucky to live in an area where we have access to a lot of locally grown flowers. We have well-trusted, quality growers right here on the island as well as on the lower mainland. So even if there are issues getting flowers shipped from other parts of the globe, we have access to beautiful locally grown products right here!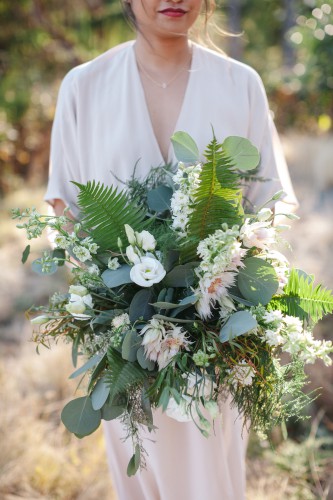 We also recommend that you choose flowers that typically grow in the season that you are planning your wedding in. So if your wedding is going to be in the early spring, tulips may be a good choice. If your wedding will be in the late spring or early summer, peonies are lovely, and in fall dahlias are a beautiful choice. While we cannot guarantee anything when it comes to nature, making choices based on what is typically available at any given time of year will increase your chances of getting the flowers you want, and a professional florist is able to help you make those important decisions.
Floral Trends
Some trends come and go in a flash, others take hold and stick around for quite a while. With wedding flowers, we are most certainly still seeing a desire for those big, lush, garden-style bouquets that have been popular for a few years. Lots of greenery with big fluffy blooms are very popular. Boho-style flowers with lots of texture and accents like pampas grass are also still well sought-after! While loose, bohemian arrangements are a huge trend, we are seeing more and more couples asking for a classic, elegant look with less greenery and more rounded shapes. In a throwback to the early 2000's, we are noticing that cleaner looks are making a comeback!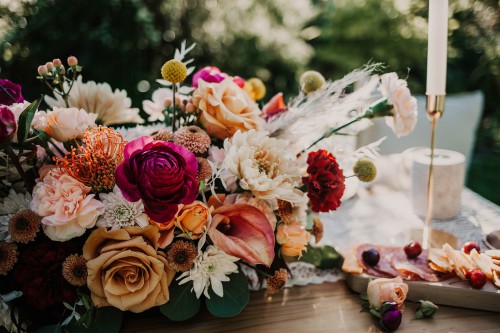 While blush and burgundy are still as popular as ever, we can see that caramel, deep green, rust, berry, and rich jewel tones are all making appearances this year.
Peonies, roses (in all of their varieties), dahlias, and eucalyptus are still the most common requests when people are choosing their wedding flowers. We are thrilled to note that an increasing number of couples are specifically requesting locally grown flowers for their weddings…it's no secret, we LOVE local, and this is a trend we are very on board with!
What do couples usually do?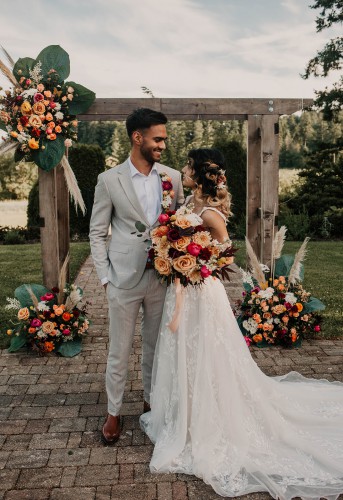 We get this question a lot. Probably because most people have never ordered wedding flowers before. Many times they can be feeling a bit unsure and maybe even overwhelmed. While some things may be considered common or traditional when it comes to wedding flowers, it's really up to individual couples to decide! When couples ask us what's "normal" for weddings, we always tell them that every couple is different and therefore every wedding is different!
Some couples decide to have a corsage or boutonniere for every member of the family while others opt to only have those pieces for very special, honored guests or even none at all. Is it common for the groom and all of his groomsmen to have boutonnieres? Yes. But is it a requirement? Absolutely not, how you organize your day is completely and totally up to you and we won't judge! We've done flowers for Bridesmen and Bestwomen and everything in between. If you're coming to us to talk about wedding flowers and have an unorthodox idea we'd love to hear it…we love a good challenge!
When do we book?
This is another frequent question! In years past we have, here at Brown's, normally answered with, "A few months out from the wedding." and have always done our best to accommodate even the most last-minute couples. Now in a COVID world, our answer has been forced to change. Due to high demand for flowers, and sometimes limited availability, it's very important that we have orders well in advance to our suppliers. We also must recognize that while we'd love to take on every couple that comes our way, we too are only human and have to set limits in order to serve each and every one of our couples to the absolute best of our ability. 
For the first time in our history, we will be limiting the number of weddings we take on each week to be sure we can give our best to those who do book with us. That means we may have to say no to some couples. So, we now recommend you book your wedding flowers 6-8 months in advance. There's just one issue with booking farther in advance…Mother Nature still has the upper hand. Sometimes, even when we've given our wholesalers plenty of lead time, some blooms may not be available as predicted. This can be for any number of reasons from supply chain issues to weather patterns.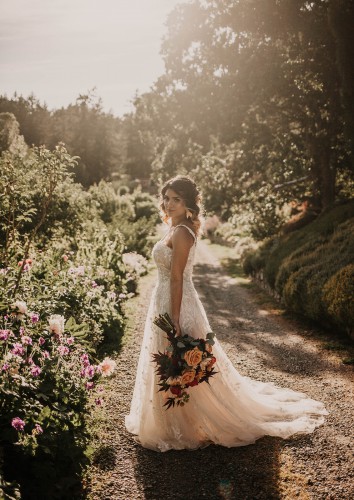 Having said that, we will always do our very best to accommodate last-minute wedding orders! Short notice weddings require us to work with the blooms we have on hand that week. So as long as you are happy to have us design for you from what we already have in store, we will do our best to help.
What to bring to your consultation
If you're feeling ready to book an appointment to speak with one of our Wedding Consultants that's fantastic, we are so excited to meet you and talk all about your wedding! There are a few things you need to know before we can properly put a quote together for you:
Your wedding date (if you do not know this please get in touch with us once you have settled on a date and booked your venue).

How many people will be in your wedding party (bridesmaids, groomsmen etc).

Your colour palette (it's really best you actually know what your colours are instead of just having a rough idea. Changing your colour scheme after booking your flowers can mean extra costs for you if we have to re-do your entire quote to reflect a new colour scheme).

While not absolutely essential, it is very helpful for us to know what everyone in your party will be wearing as it helps us to understand what will look best and what finishing touches will work to complement the outfits.

An idea of how many pieces you need (bouquets, centerpieces, ceremony flowers etc). The more of these details you have settled on, the more accurate our proposal can be for you, if you do not have all the details nailed down we may not be able to give you an accurate idea of how much your flowers will cost.

Any photo inspiration you have! Have a Pinterest board full of wedding flowers you love? Found things on Instagram that give you all the feels? Bring those screenshots and Pinterest boards to show us. We are visual people here at the flower shop so seeing what has caught your eye is very helpful to us!
Budget
Just like availability, the cost of flowers is very dependent on the floral market and can be greatly affected by global events and climate change. The cost of flowers can also be greatly affected by trends. For example, while you may see Pampas Grass growing all over your neighbourhood it might not be as cost-effective as you imagine. High demand even for very common floral products can drive prices up. We've even seen Baby's Breath (something we typically have in our shops weekly and usually costs around $3 per stem) go up to $8 per stem simply because of high demand!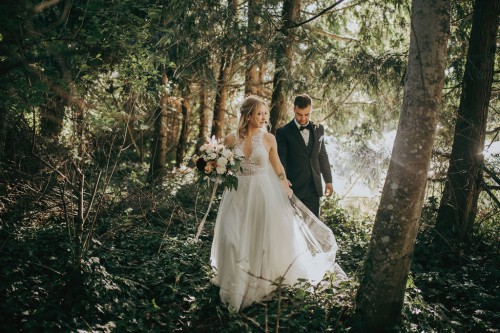 We'd love to be able to tell you in this blog how much wedding flowers cost but, it's not exactly that simple. A bouquet for one bride may cost $250, and for another, it may cost $400, it's all dependent on many factors such as style, blooms chosen, and size.
The best advice we have when it comes to the budget is again, to be flexible.  Are you starting to see a theme here? Flexibility is key! Being open to what is available in that season, and being flexible with substitutions means we have the ability to choose flowers that work with your style, colour scheme, and budget.
Phew…That was a lot of information to digest! If you're getting married and need flowers please reach out, we'd love to chat and help you make the best decisions possible about flowers for your event! 
Written by Amanda Vallis